Page 1
Page 2
Page 3
Page 4
Page 5
Page 6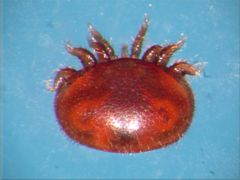 Varroa mites
What is a Varroa mite and how did it get here?
The mite is an external parasite of the honeybee, it originated from Asia and spread across Europe to the UK. The mite feeds off the adult bee and brood and whilst doing so it spreads harmful pathogens such as bee viruses. It causes the colony to become weak and if not managed the colony will collapse and die.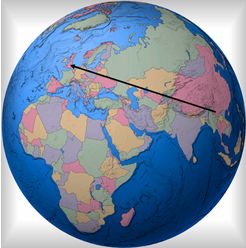 Varroa travelled all the way from Asia to the UK
The cause of the spread to the UK was most probably caused through inadvertent movement of infested bees, this could have been done by simply being on imported goods, illegal importation of bees from infested countries, etc. Varroa were first found in the UK in 1992.
Reproduction & Life-Span
The adult female mite enters the brood cell just before it is capped, mostly the drone (male) bee cell because it is bigger and allows more room for breeding. She then proceeds to nourish off the immature bee in the cell. After 60-70 hours she lays the first eggs.
The male mite is born first because it has to mate with the other mites before the bee emerges because it does not live outside the cell. All the fertilised females leave to accommodate other open cells to repeat the process.
Because of Varroa's reproduction cycle, they can return in staggering levels despite treatments in the previous years. Therefore treatment and management is recommended every year.
The life-span also depends on the quantity of brood, they can live up to 27 days in the summer to 5 months during the winter where there is a lack of brood they spend there time solely on the bodies of the adult bees. In the summer they can complete 3-4 breeding cycles.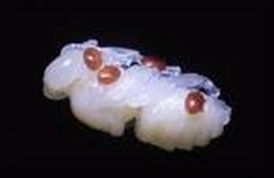 Mites on a removed Pupa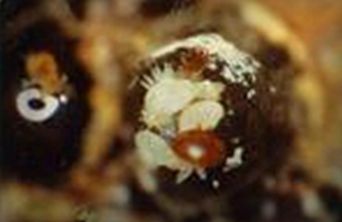 Mites on a pupa in the cell
To continue to Page 2, please click here...