Back to the Beepedia Index...
Reproduction and Development
The queen controls the sex of her offspring. When an egg passes from her ovary to her oviduct, the queen determines whether the egg is fertilized with sperm from the spermatheca. A fertilized egg develops into a female honeybee, either worker or queen, and an unfertilized egg becomes a male honeybee, or drone.
The queen lays the eggs that will develop into more queens in specially constructed downward-pointing, peanut-shaped cells, in which the egg adheres to the ceiling. These cells are filled with royal jelly to keep the larvae from falling and to feed them.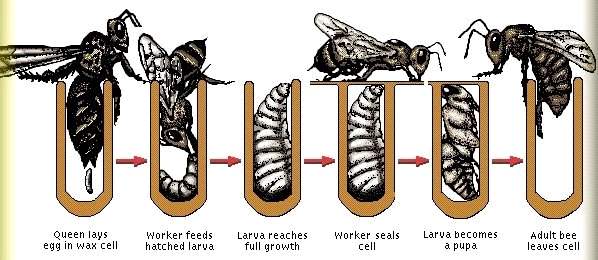 Worker bees are raised in the multi-purpose, horizontally arranged cells of the comb. Future workers receive royal jelly only during the first two days, compared to future queens, who are fed royal jelly throughout their larval life. This difference accounts for the great variation in anatomy and function between adult workers and queens.
Back to the Beepedia Index...