Page 1
Page 2
Page 3
Page 4
Page 5
The Pieces in the Kit
Buy a Jenter kit


A Karl Jenter kit or 'Jenter kit' is an efficient and easy way to raise your own queens. It has many advantages over rival techniques. You can raise as many queens as you wish without having to graft the larvae. You also have the added advantage of being sure of the age of the eggs.

However, using a Jenter kit for the first time to raise queen honey bees can be a tricky issue and so we have compiled this step-by-step guide to make the process easier for you as a beekeeper.
Preparation:
With the Jenter kit you will find a number of pieces. Check that you have all of the pieces visible below: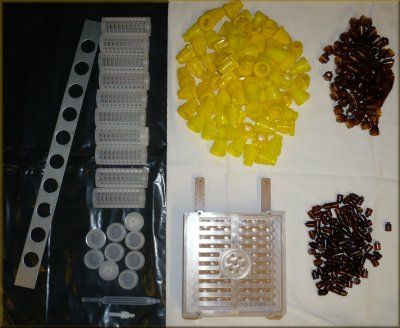 You will have to familiarise yourself with all of these pieces. What each piece in the kit is called can be found by clicking here.
You will also require a number of tools. A wood saw, a hammer, a sharp knife, a pair of wire cutters, a tape measure, a blow torch, a wooden support, and finally some nails. To avoid any confusion, these are pictured below: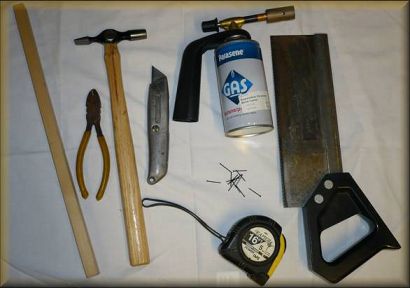 Now you have everything ready, take the cell cups and fit these into the insert cells. Then take the assembled cell cup and insert cell and fit these into the cell carrier. This is shown below:


To continue to Page 2, please click here...